Toronto to Las Vegas
Private Jet Charter Flights from Toronto, ON, Canada to Las Vegas, NV, USA
Rent a private jet from Toronto to Las Vegas with Jet Charter Vegas and our on-demand private jet charter services and instant access to charter planes across Ontario, Canada.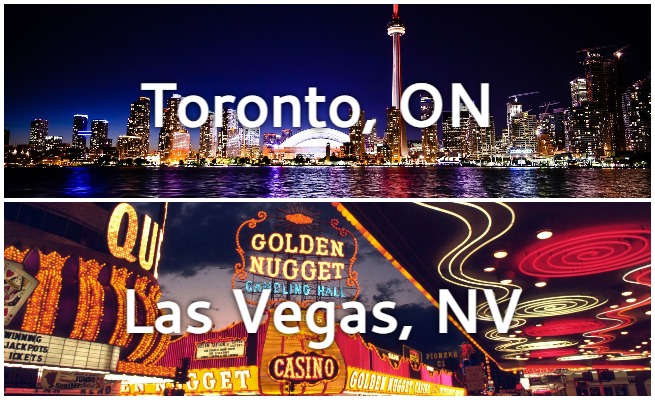 Our private jet services are available for luxury and business travelers throughout Toronto and surrounding areas of the Ontario Peninsula, including London, Hamilton, Brampton, Burlington, Richmond Hill, Mississauga, Kitchener, and Niagara Falls.
Our aviation services are available around the clock to accommodate last-minute trips and ASAP requests, and you'll receive free quotes with all-inclusive costs without contracts, hidden charges, or membership fees.
Contact us for more information or request a free charter quote for private jet charters from Toronto, ON, Canada to Las Vegas, NV, USA.
How Much Does it Cost to Charter a Private Jet from Toronto to Las Vegas?
The cost to charter a private flight from Toronto to Vegas starts at around $42,000* for a one-way flight in a super midsize jet, with seating for up to 8 passengers. Round trips with 2 days spent in Las Vegas start at $75,000 in a super mid. Heavy jets are available for groups of up to 12 passengers with a one-way starting at around $60,000, and weekend roundtrips at $100,000. Pricing based on time & distance calculations, and is subject to change based on aircraft type, scheduling, fuel, taxes, and several additional factors.
Toronto to Vegas in a Super Midsize Jet
Flight Time: 4 hours and 35 minutes
Seating: up to 8 passengers
Estimated Cost: starting at $42,000* (one-way); $75,000* (weekend roundtrip)
Popular Models: Challenger 300/350; Falcon 2000; Gulfstream G200/G280
Toronto to Vegas in a Heavy Jet
Flight Time: 4 hours and 35 minutes
Seating: up to 12 passengers
Estimated Cost: starting at $60,000* (one-way); $100,000* (weekend roundtrip)
Popular Models: Challenger 604; Falcon 900EX; Gulfstream V
* Example pricing only. Prices are all-inclusive plus tax. Additional services (de-icing, catering, additional flight time due to weather or ATC, internet charges and/or ground transportation) billed separately. Cost and availability are subject to change. Pricing based on Toronto Pearson to Las Vegas International; additional airports are available and may alter the cost of your charter.
Toronto Airports
Charter flights form Toronto will depart from Lester B. Pearson International Airport, Canada' primary gateway and busiest airport. FBO services are provided by Signature Flight Support, Skycharter Limited, and Sky Service, with private terminals located to the Northwest of the airport off Derry Road E and Vanguard Drive. If you're located to the west of Toronto, we can also arranged for your charter flight to depart from either London International or Hamilton International. If you're located to the southwest of London between Chatham and Detroit, our services are available at Windsor International Airport.
Toronto Pearson International Airport (CYYZ, YYZ)
London International Airport (CYXU, YXU)
Hamilton International Airport (CYHM, YHM)
Windsor International Airport (CYQG, YQG)
Smaller Airports near Toronto
Buttonville Municipal Airport (CYKZ, YKZ) 
Billy Bishop Toronto City Airport (CYTZ, YTZ) 
Burlington Executive Airport (CZBA) 
Las Vegas Airports
Private flights to Vegas will arrive at Harry Reid International Airport, also known as Las Vegas International and formerly known as McCarran Airport. It's central location makes it ideal for private jet arrivals, and the airport's private terminals are located away from the commercial terminals on the opposite side of the field. Flights can also be arranged to arrive/depart at Henderson Executive and North Las Vegas Airport; turboprops and other light aircraft are available for flights at Boulder City Municipal Airport near the Lake Mead Recreational Area.
Las Vegas International Airport (KLAS, LAS)
Henderson Executive Airport (KHND, HND)
North Las Vegas Airport (KVGT, VGT)
Check out more information on airports for private jets in Las Vegas, NV.
Private Flights from Toronto, ON to Las Vegas, NV
For instant pricing & availability on private flights from Toronto, ON to Las Vegas, NV, give us a call or request a charter quote. Our team is available 24 hours a day to handle all of your aviation requests, including ASAP and last-minute private flights.