Phoenix to Las Vegas
Private Jet Charter Flights from Phoenix, AZ to Las Vegas, NV
Book a private flight from Phoenix to Las Vegas with Jet Charter Vegas, offering on-demand jet charters services with access to charter jets near you.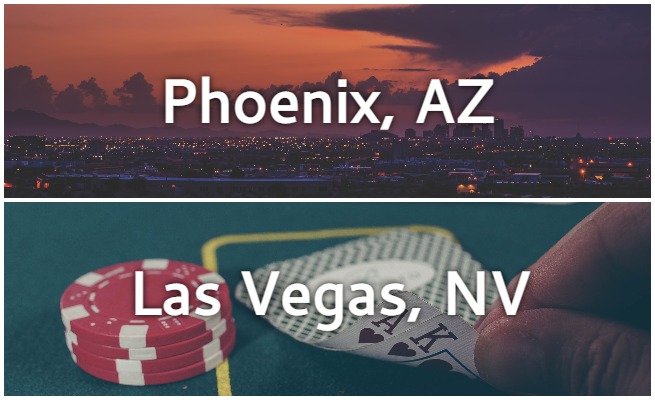 Our no-obligation quotes come with all-inclusive pricing, and no contracts, hidden charges, or membership fees. Simply pay as you fly, and get the best deal for every flight. And, we're available around the clock for any last-minute trips, or ASAP requests.
Contact us for more information or request a free charter quote for private jet charters from Phoenix, AZ to Las Vegas, NV.
How Much Does it Cost to Charter a Private Jet from Phoenix to Las Vegas?
The cost to charter a private flight from Phoenix to Las Vegas starts at $8,500* one-way in a turboprop with seating for up to 8 passengers. Pricing based on KLAS to KSDL, and subject to change based on aircraft type, scheduling, fuel, taxes, and several additional factors.
Scottsdale to Vegas
Flight Time: 50 min – 1 hr 10 min
Seating: 6-8 passengers
Estimated Cost: starting at $8,500*
Popular Models: Pilatus PC-12; King Air 200/350
* Examples pricing only. Prices are all-inclusive plus tax. Additional services (de-icing, catering, additional flight time due to weather or ATC, internet charges and/or ground transportation) billed separately. Cost and availability are subject to change. Pricing based on Scottsdale to McCarron; additional airports available.
Phoenix Airports
Deer Valley Airport (DVT) is the main private jet airport in Phoenix, with 3 FBO providers and a runway suitable for any size jet. Deer Valley hosts a lot of business aviation traffic and is a major hub for private jets in the Southwest. Scottsdale Airport (SDL) is another option for leisure flights, with customs for international travel it ranks as one of the busiest single-runway facilities in the nation. Private flights can be arranged at any of Phoenix's airports, although larger aircraft may be restricted from using smaller runways, and some airports may offer lower fuel prices and operational fees than others.
Sky Harbor International Airport (KPHX, PHX)
Deer Valley Airport (KDVT, DVT)
Goodyear Airport (KGYR, GYR)
Scottsdale Airport (KSDL, SDL)
Falcon Field (KFFZ, FFZ)
Las Vegas Airports
Private flights to Vegas most often arrive at Las Vegas International Airport. Formerly known as McCarran, it's central location makes it ideal for private jet arrivals, with 2 private terminals located on the opposite side of the airport from the commercial terminals. Flights can also arrive at airports in Henderson and North Las Vegas; turboprops and light aircraft can arrive near Lake Mead Recreational Area in Boulder City.
McCarran International Airport (KLAS, LAS)
Henderson Executive Airport (KHND, HND)
North Las Vegas Airport (KVGT, VGT)
Check out more information on private jet airports in Las Vegas, NV.
Private Flights from Phoenix, AZ to Las Vegas, NV
For instant pricing & availability on private flights from Phoenix, AZ to Las Vegas, NV, give us a call or request a charter quote. Our team is available 24 hours a day to handle all of your aviation requests, including ASAP and last-minute private flights.