Miami to Las Vegas
Private Jet Charter Flights from Miami, FL to Las Vegas, NV
Chartering a private flight from Miami to Las Vegas is the best way to travel from South Beach to Sin City!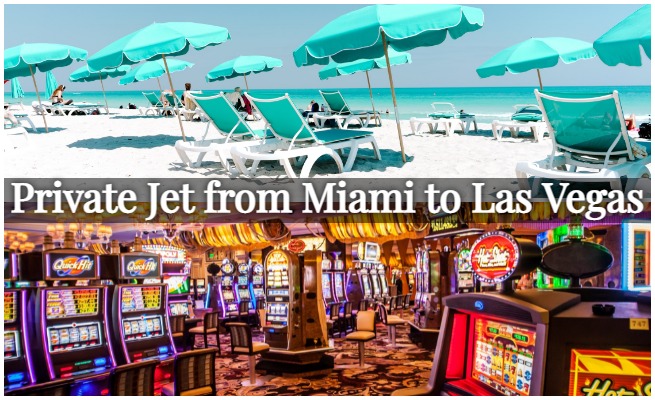 Jet Charter Vegas offers instant access to private charter flights to Las Vegas from Miami, FL.
Contact us for more information or request a free charter quote for private jet charters from Miami, FL to Las Vegas, NV.
How Much Does it Cost to Charter a Private Jet from Miami to Las Vegas?
The cost to charter a private jet from Miami to Vegas for a one-way flight starts at $30,000* in a Super Midsize Jet. The price for a round-trip flight starts at $65,000* with a weekend spent in Las Vegas. For exact pricing, request a free charter quote.
Miami to Vegas
Super midsize jets can comfortably seat up to 8 passengers, with a flight time between 4.5 and 5 hours depending on the charter aircraft. One of the most popular jets for this flight is the Cessna Citation X, one of the fastest jets in the world. Check out a quick tour of this super midsize jet, and request a quote to book your private flight to Vegas on a Citation 10 business jet.
Flight Time: 4 hrs 30 min – 5 hrs
Seating: 8-10 passengers
Estimated Cost: starting at $38,000 (one-way)* | $65,000 (round-trip)*
Popular Models: Cessna Citation X; Challenger 300/350; Gulfstream G280
* Examples pricing only. Prices are all-inclusive plus tax. Additional services (de-icing, catering, additional flight time due to weather or ATC, internet charges and/or ground transportation) billed separately. Cost and availability are subject to change. Pricing based on Miami Opa Locka to McCarron Airport; additional airports available.
Miami Airports
Jet Charter Vegas in based in the United States, and we enjoy access to charter planes from coast to coast for private flights to Las Vegas, NV. This includes private jets based in South Florida, one of the busiest regions in the world for luxury and business aviation. You'll have plenty of aircraft options for your flight, as well as several airports to depart from.
Miami International Airport (KMIA, MIA)
Opa Locka Executive Airport (KOPF, OPF)
Miami Executive Airport (KTMB, TMB)
Fort Lauderdale International (KFLL, FLL)
Fort Lauderdale Executive (KFXE, FXE)
Palm Beach International (KPBI, PBI)
Las Vegas Airports
McCarran international is the main choice for private jets arriving in Las Vegas, but additional airports are available within minutes of the Las Vegas Strip. Check out more information on private jet airports in Las Vegas, NV.
McCarran International Airport (KLAS, LAS)
Henderson Executive Airport (KHND, HND)
North Las Vegas Airport (KVGT, VGT)
Private Flights from Miami, FL to Las Vegas, NV
For instant pricing & availability on private flights from Miami, FL to Las Vegas, NV, give us a call or request a charter quote. Our team is available 24 hours a day to handle all of your aviation requests, including ASAP and last-minute private flights.