Las Vegas to Los Angeles
Private Flights from Las Vegas, NV to
Los Angeles, CA
Charter a private jet from Las Vegas to Los Angeles with our on-demand charter plane rentals! Jet Charter Vegas offers around the clock air charter services between Sin City and the City of Angles, home to two of the largest private aviation markets in the world.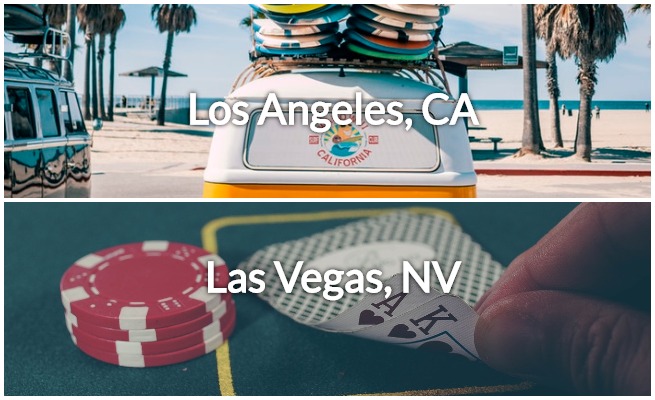 Whether you're flying to LA for business or pleasure, we'll connect you to the perfect charter plane. Our aircraft rentals are available 24 hours a day and available at airports near you, finding you the best plane at the best price for every flight.
Call us at 888-987-JETS or email us for a free quote, and book your private flight from Vegas to LA with Jet Charter Vegas.
Private Jet from Vegas to Los Angeles
Charter a private flight from Las Vegas to Los Angeles and gain access to thousands of charter planes based in Nevada and across the country. This includes empty leg jets (also known as deadhead flights) returning to Vegas or LA, which offer substantial savings.
Enjoy free quotes without any commitment, contracts, charges, or member fees – pay as you fly and we'll find the best deal every time you request a flight. Do you frequently fly private? Aside from locating the best planes for on-demand charter flights, we offer 25, 50, and 100 hour jet card memberships, with guaranteed rates & availability on a wide range of aircraft types.
Most private flights to LA arrive using Van Nuys Airport (KVNY). The private jet hub of Hollywood, the route between Van Nuys and McCarran Airport is the busiest private jet route in the United States. Santa Ana-John Wayne Airport is the second most popular departure airport in LA for private flights, and it's home also to several charter aircraft. Other popular airports include Burbank-Bob Hope, Long Beach, Santa Monica, Palm Springs, and Santa Barbara.
Check out some example prices for private flights from Vegas to Los Angeles. For charter costs and aircraft availability, including estimated cost and all-inclusive charter quotes, our brokers are available around the clock, including last minute trips and ASAP flights.
Vegas to LA | Light Jet
Light and super light jets are perfect for short flights from Vegas, flying at high speeds with seating for up to 7 passengers. Popular light jets for flights for this route include Hawker 400XPs, LearJet 40/45s and 70/75s, the Citation CJ series, and the world's best selling business jet, the Embraer Phenom 300. Light jets offer a range of approximately 1,500 nautical miles while flying at speeds of up to 500 mph, getting you from the Strip to LA in just over an hour.
Estimated Time: 1 hour – 1 hour & 20 minutes
Seating: up to 7 passengers
One-Way Cost: starting at $7,000*
Round-Trip Cost: starting at $12,500 – $18,000*
Vegas to LA
| Heavy Jet
Heavy jets offer comfort, capacity, and amenities that smaller planes can't compete with. While built to excel in cross country flights, many heavy jets offer excellent short range performance and available for charter through many operators, especially along the most popular private jet route in the US. Popular aircraft choices include Challenger 600's and 800's, Falcon 900's, and the iconic Gulfstream G4 luxury plane. Rent a heavy jet to Van Nuys Airport, and you can arrive in less an hour, with room for up to 12-14 passengers.
Estimated Time: 50 minutes – 1 hour & 15 minutes
Seating: up to 14
One-Way Cost: starting at $12,000*
Round-Trip Cost: starting at $32,000 – $36,000*
* Examples pricing only. Prices are all-inclusive plus tax. Additional services (de-icing, catering, additional flight time due to weather or ATC, internet charges and/or ground transportation) billed separately. Cost and availability are subject to change. Pricing based on McCarron Airport to Van Nuys. Additional CA and NV airports available.
Request a Quote | Private Jet from Las Vegas, NV to
Los Angeles, CA
Request a free quote or give us a call at 1-888-987-5387 to book a private charter plane from Las Vegas, NV to Los Angeles, CA.