Burning Man
Fly private to Burning Man in Black Rock City!
Burning Man is a festival that takes place in Black Rock City, Nevada, a temporary city dedicated to community, art, self-expression, and self-reliance, all created by the participants of the event.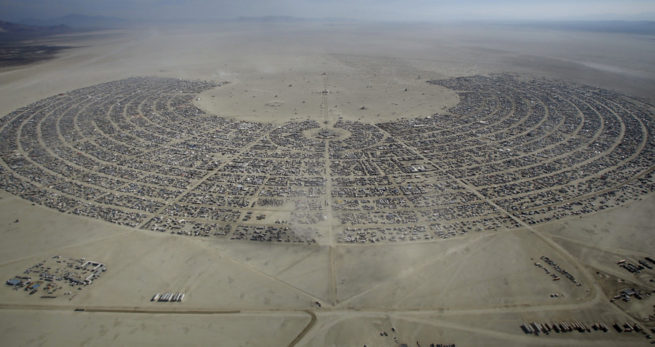 The festival begins on the last Sunday of August and runs until the first Monday of September. The event is named after its main attraction, the symbolic, ritual burning of a large wooden effigy, "the Man", which traditionally occurs on Saturday evening. A temple is traditionally burned as well, which typically occurs on the following evening.
At Burning Man, participation is a vital component for the experience, and sharing your unique talents with others in attendance is actively encouraged and reinforced, with an aim to explore a variety of artistic self-expressions in a melting pot of culture. Some of the creative endeavors include interactive sculptures, mutant vehicles, and other displays, often inspired by the event's theme – this year's theme will be "DaVinci's Workshop".
The event focuses on the principles of Burning Man in an effort to raise inclusiveness, reduce waste and share in the experience.
10 Principles of Burning Man:
Radical inclusion
Gifting
De-commodification
Radical self-reliance
Radical self-expression
Communal effort
Civic responsibility
Leaving no trace
Participation
Immediacy
Private Jet Charter to Burning Man
When you book a private charter flight, you'll enjoy more efficiency, flexibility, comfort, privacy, and peace of mind compared to commercial air travel. Avoid the long baggage lines and time-consuming security checkpoints and get on your private jet directly – with your own personal chartered aircraft for your return trip home, you can fill your private jet up with anything you may acquire at Burning Man!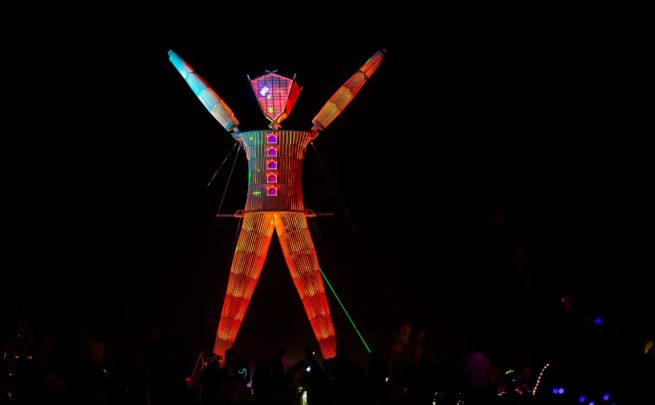 Jet Charter Vegas can arrange for your private charter flight to land at (KRNO, RNO) Reno-Tahoe International Airport, located two hours north of the festival. After you arrive, we can arrange ground transportation to bring you to either a hotel or directly to the festival. There's also a small airfield that temporarily opens around the festival, and in 2009 the airfield was recognized by the FAA as (88NV) Black Rock City Municipal Airport.
*  Please note that Black Rock City's Airport features a 5,280 foot dirt runway, which is unlit.
Official Website: http://burningman.org/
---
Request a Burning Man Jet Charter Quote
Request a Quote or give us a call at 1-888-987-5387 to speak with one of our Las Vegas Private Jet Charter service brokers to book your private flight to the next Burning Man in Black Rock City, Nevada!